Home
Justice project PSEFS presented in Brussels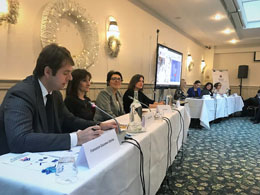 Assoc. Prof. Dr. Ivana Kunda and Assist. Prof. Dr. Sandra Winkler participated on behalf of the Faculty of Law in Rijeka at the presentation of the Justice project PSEFS – Personalized Solution in European Family and Succession Law (No. 800821-JUST-AG-2017/JUST-JCOO-AG-2017), held in Brussels on 14 December 2018.

Members of the project consortium, consisting of the University of Camerino (Italy), the University of Ljubljana (Slovenia), the University of Almeria (Spain) and the Faculty of Law of the University of Rijeka, presented the basic project objectives of the and expected results in the opening of the event, followed by the invited judges, notaries, state officials, diplomats and attorneys from many EU Member States who commented on the project research and offered important expert advice and ideas.

Cooperation with legal experts who on a daily basis encounter various issues related to transnational family property is of extreme importance for the project success. Therefore, we would like to thank one more time to all stakeholders who recognised the value of this project and decided to support it by joining us in Brussels.

The event was streamed via Webex, and it may also be viewed here and here.