Home
PRAVRI students won 1st place at the student moot court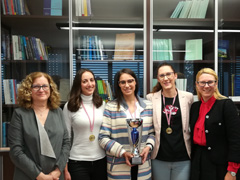 On Monday 13 May 2019, the Dean of the Faculty of Law in Rijeka Prof. Dr. Vesna Crnić-Grotić today welcomed the students Andrea Kostelić, Sonja Kostić and Katarina Latas who, with the support of their mentor Assoc. Prof. Dr. Ivana Kunda, represented the Faculty at the Moot Court Competition in private international law "EUChild", organised in the framework of the Jean Monnet Chair for Cross-Border Movement of the Child, held on 9 and 10 May 2019 at the Faculty of Law in Osijek.
On that occasion the Dean congratulated the student team for winning the 1st place among six teams from the region: all four Croatian law faculties and one from Bosnia and Herzegovina and one from Serbia. The students handed over the goblet which will be added to the Faculty awards collection.
Dominating the final hearing, the students won by well prepared speech, clever responses to the questions and overall excellent impression of their performance.
We are joining the congratulations and believe that this experience will help students in sucesfully completing their studies and finding future employment!