Home
The first stage of the PSEFS project completed with a series of events at the Faculty of Law in Rijeka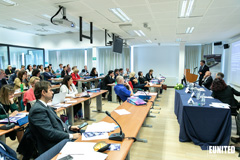 On 30 and 31 May 2019, Faculty of Law in Rijeka was a venue of the intense discussion on European family and succession law, private international law, as well as sociological perspectives of contemporary family units. More than 50 speakers from 13 countries, both of academic and professional background, presented results of their research and highlighted the problems with which they are confronted on everyday basis.

The programme consisted of 4 parts:

1. Public seminar: ASSESSMENT OF THE ATLAS CONSTRUCTION: CREATION OF A COMMON METHODOLOGY
2. Dissemination meeting: PRESS HOUR: LAUNCH OF THE ATLAS AND PRESENTATION OF THE INTERNATIONAL ADVISORY BOARD
3. Expert meeting: FAMILY AND SUCCESSION IN EU: COMPARING, TRANSFERRING, UNIFYING
4. Roundtable: A PROPOSAL OF TAXONOMY FOR TRANSNATIONAL FAMILY GROUPS.

All events were live streamed. The recording is available here.
The results of the first stage of the project are available on website.