Home
Dean participating at the Paris Conference celebrating 25 years of the CE Commission against discrimination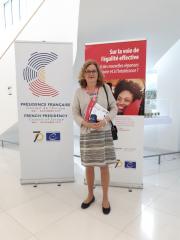 On the occasion of the 25th anniversary of the Council of Europe's European Commission against Racism and Intolerance (ECRI), a high-level conference will be organised on 26 and 27 September in Paris to take stock of its action and of the progress achieved in Europe in the fight against racism and intolerance, but also to develop responses to new challenges in this field. The Dean of the Faculty of Law in Rijeka Prof. Dr. Vesna Crnić-Grotić was invited to participate at this conference.

Follow the conference on this link.

More about the conference is available here.