Home
The second session of the 2020 UEFA Football Law Programme held in Rijeka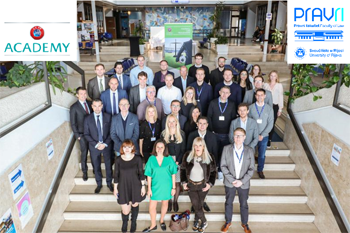 From 10 to 14 February 2020, the Faculty of Law in Rijeka co-organised and hosted the second session of the third UEFA Football Law Programme. This programme offers training in the field of sports law in particular football law, and is designed for legal specialists or senior executives working on legal issues in national football associations, football clubs, players' unions, leagues and law firms specialised in sports law. It comprises four week-long sessions in five different locations, thus Rijeka now appears on the UEFA FLP map along with Lausanne and Nyon (Switzerland), being the CAS and UEFA headquarters respectively, Istanbul (Turkey) and Venice (Italy).



The first day of the Croatian session was held at the Croatian Football Federation (HNS) headquarters in Zagreb, while the events throughout the remaining four days of the session took place in Rijeka, at the Faculty of Law and at the HNK Rijeka Stadium and Training Centre. The session was focused on different issues in the transfer system in football, with renowned speakers coming from the FIFA, the UEFA, the English Football Association and the CAS.

As a co-organiser of this event, the Faculty of Law in Rijeka is grateful for the support received from the Croatian Football Federation, HNK Rijeka, the Kvarner Region Tourist Board and the City of Rijeka.
Details of the event are reported at the HNS website and HNK Rijeka video.