Home
Faculty concluded the agreement for financing of the project PRAXIS IURIS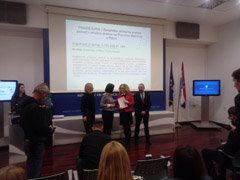 The Faculty of Law in Rijeka is starting a new project "PRAXIS IURIS – Free primary legal aid and professional practice at the Faculty of law in Rijeka", funded entirely from the European Social Fund, Operational programme "Efficient human resources 2014-2020" in the amount of HRK 3,102,829.37. On 9 March 2020, the Faculty Dean Prof. Dr. Vesna Crnić-Grotić has attended the ceremony of signing of the grant agreement in the Ministry of Science and Education, together with the Project Manager Assoc. Prof. Dr. Gabrijela Mihelčić.

The project's main objective is to increase employability of students of the integrated university Study of Law as well as the undergraduate professional study programme in Administration Studies. Planned activities over the three years of project duration will include the establishment of a Legal Clinic – Free primary legal aid centre at the Faculty, and various activities aimed at increasing the quality and expanding the existing models of practical learning (clinical courses, moot courts, professional practice and legal research).
More information available at the Ministry news section.