Home
The defence of doctoral dissertation written by Anna-Lena Hoffmann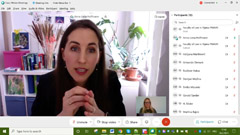 On 26 February 2021, doctoral candidate Anna-Lena Hoffmann defended her doctoral thesis titled "Die datenschutzrechtliche Einwilligung im Gesundheitsbereich unter der DSGVO: Unter besonderer Berücksichtigung der datenschutzrechtlichen Vorgaben in Deutschland" ("The Consent on Data Protection in the Health Sector under the GDPR: With Special Emphasis on the Data Protection Legislation in Germany"), under the mentorship of Professor Dr. Gerald G. Sander Sander, University of Applied Sciences – Public Administration and Finance Ludwigsburg, and Associate Professor Dr. Emilia Mišćenić, University of Rijeka, Faculty of Law.

The Defence Committee was presided by Professor Dr. Hannes Rösler, University of Siegen, Germany, joined by the Committee members Professor Dr. Damjan Možina, University of Ljubljana, Slovenia, and Assistant Professor Dr. Adrijana Martinović, University of Rijeka, Croatia.

The thesis focuses on consent under the GDPR in the health sector. In addition to detailing the complex criteria for a valid consent for processing health data, it points to the situations in which free consent is not a realistic option due to inequality between the parties. The analysis of the German law indicates that laws of some German federal states are yet to be aligned with the GDPR.